LIFETIME BRAKE PAD GUARANTEE*
*Available for Motorcraft® brake pads purchased after 7/1/14 and Omnicraft™ brake pads purchased...
*Available for Motorcraft® brake pads purchased after 7/1/14 and Omnicraft™ brake pads purchased after 7/1/17. Nontransferable. Replacement requires copy of original repair order and completion of any other necessary brake service, such as brake rotor service. Motorcraft or Omnicraft brake pads must be installed by U.S. Ford or Lincoln Dealership or Quick Lane® technician to be covered. Pads only; labor costs not included. Commercial delivery vehicles, taxi, limousine, postal, police, tow trucks, racing and emergency vehicles are excluded. Restrictions and exclusions apply. See Service Advisor for details. Expires 12/31/21. Quick Lane,® Motorcraft® and Omnicraft™ are trademarks of Ford Motor Company.
View Details
Hide Details
Print This Coupon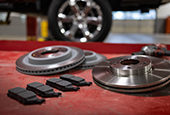 How can I tell if my brakes need servicing?
The brake system is one of the most important safety mechanisms in your vehicle. It is necessary to have it inspected regularly — a minimum of every six months or roughly every 6,000 miles — to ensure proper performance.
Here are some common signs that your brake system needs servicing:
• Brakes feel spongy or hard to press down
• Squealing or grinding noises
• Your car pulls to one side
• Your steering wheel or brake pedal shakes when applying the brake
• Your Anti-Lock Brake System (ABS) warning lights come on
Why should I choose Ford Crestview for brake repair?
Our factory-trained technicians offer a comprehensive brake inspection including:
• Checking for even wear and measuring brake pad/shoe thickness
• Ensuring brake lines and master and wheel cylinders aren't leaking
• Checking rotors for hot spots and run-outs
• Inspecting calipers for wear, fluid leaks and movement
• Checking anti-lock brake sensors
• Testing hardware and making necessary adjustments
• Checking brake fluid condition and levels
Other benefits of Ford Crestview brake services include:
• Original equipment manufacturer (OEM) parts
• Full-service maintenance and repair facility
• Parts and labor warranties
• Clean, comfortable waiting areas with free Wi-Fi
• Shuttle service to and from your home
• Friendly and knowledgeable staff
FordPassTM Rewards Visa® Card
The FordPass Rewards Visa Card is your road to more FordPass Rewards Points. Earn 10% Back in Points* when you use it for all of your service and maintenance needs at Ford Crestview. That's 5% Back in Points on Ford Dealership Purchases plus 5% Back in Points with FordPass Rewards.
*See the FordPass™ Rewards Visa® Terms and Conditions in the Summary of Credit Terms. Points are not redeemable for cash. Please see the FordPassTM Rewards Program terms and conditions at FordPassRewards.com for information regarding expiration, redemption, forfeiture and other limitations on FordPass™ Rewards Points. Must be enrolled in FordPassTM Rewards.
Brake Service Advice
Write a note below and one of our friendly service experts will get you an answer.